So this last weekend I was at NYC Resistor taking in the sun *cough* taking in the sights *cough* taking in the culture *……* well yeah. Anyway I was witnessing the birth of something magnificent. The "sudo make me a sandwich" robot!
Some of you may know the origin of the story, but for those that do not I think a simple cartoon slide will suffice.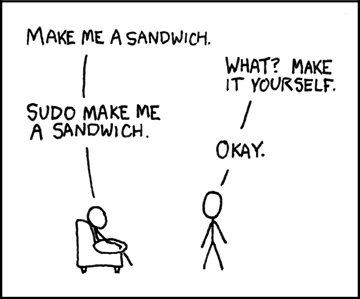 From XKCD.com
So Bre of NYC Resistor and Adam of Hackerbot Labs decided to finally implement the infamous Simon Says of hacker sandwich making.
From Bre's blog post
Make sure to check out Adam's photos and his excellent blog called Shadowflux where he'll post the code for this robot. Adam took the robot home to Seattle with him and I am optimistic that more sandwiches will be born of this robot and set free into the world.

In order to make it all work, Adam set up an arduino to interface with 2 servos and 2 steppers using the RepRap stepper controllers.

I used QCAD to design some bread and cheese distributing mechanisms and the infrastructure is up on Thingiverse.com.

The toaster oven needed a little modification and a servo controlled flap was put into place with some hinges to make it move slowly. Adam found some pretty special stepper motors with an amazing amount of torque fo.r the flap and the tray controls.

This is one of those robots that I swear is alive. The noises it made were like an animal and it seemed that everytime we looked the other way, it was coming to life and changing things with the setup.
Real Life Projects FTW!
/E.